Sea of Redemption, Shezad Dawood's hybrid PFP project—part organic fantasy world and part on-chain game—has successfully emerged from the ocean abyss and is now unfolding across NFTs one block at a time. Propelled by Mermetic energy, the Mermes have found many new homes and continue to proliferate. Here is a summary of the project so far and a look at the current evolution of the Mermes.
Merme Adopters
merme.eth (Redemption Wallet)

Left to right: PepEtherRock sacrificed by @themassagejp, #13 1617737189362 sacrificed by @joshyzen, Party Penguin #6976 sacrificed by @adlis, Dogg #17181 sacrificed by @TreeWaterfall.
Specials
The Specials are Mermes that have evolved into more advanced beings, even partaking in feudal society. These 1/1 Expanded NFTs are redeemable for museum-grade physical artworks. To acquire a Special, collectors send specific combinations of Mermes to merme.eth.
Pablo Rodriguez-Fraile (@pablorfraile) sent a Humpback, Whale, Fish, Octopus and Shrimp to merme.eth and in return obtained the Mermakala, which is 1 of 3 Super Specials. At a time of Pablo's choosing, the Mermakala can be redeemed for a physical neon artwork.
Both the Mermakala character and the neon medium are recurring features of Shezad's practice:
The Mermakala sits really nicely within the idea of redemption, as it's my hybrid of Merme with Mahakala: one of the 'wrathful deities' of Tibetan Buddhism. I was interested to take the Merme figure and connect it to my interest in Buddhist cosmology.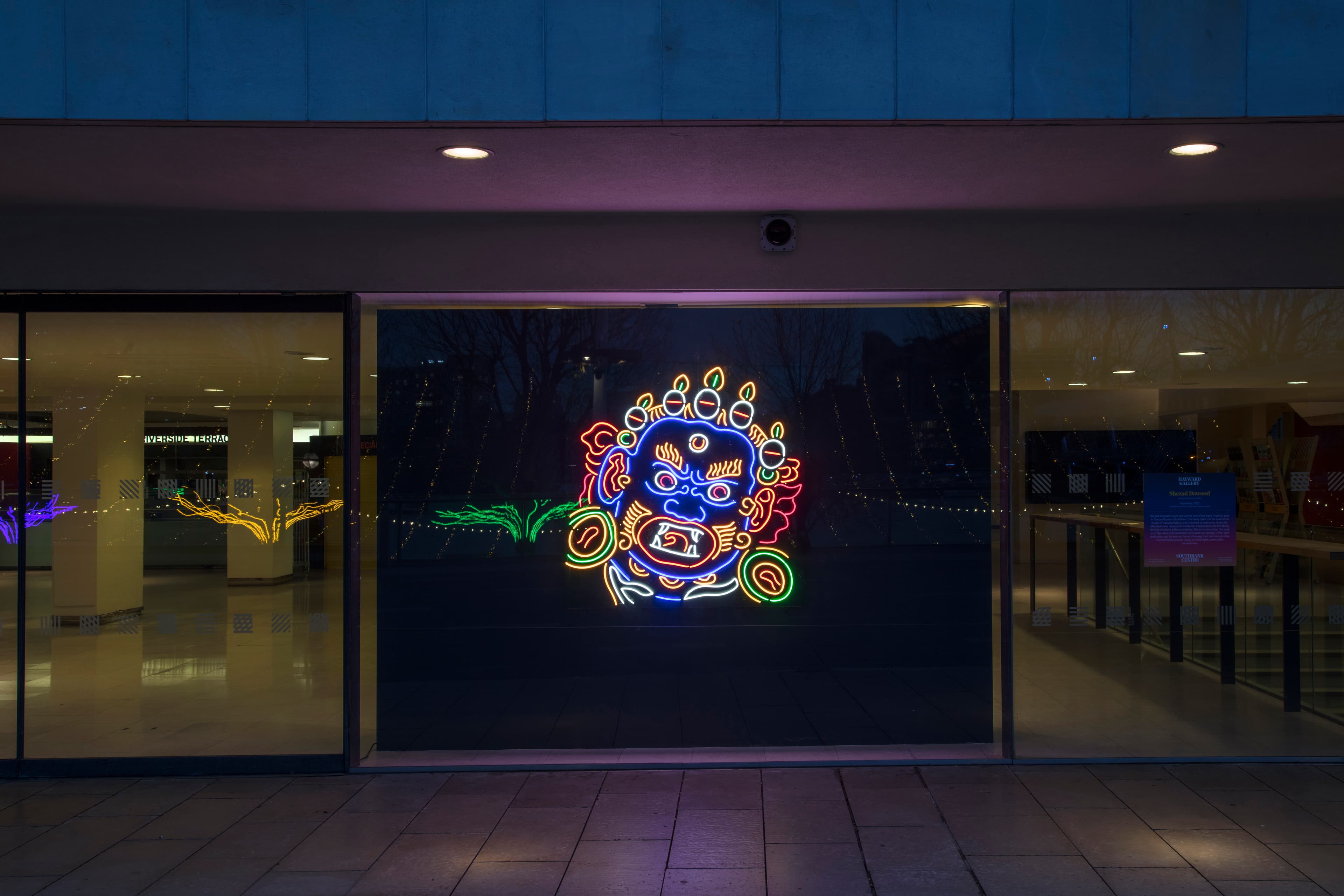 The Mermakala also connects with some of my most iconic neon works. This is my Mahakala neon that was shown at the Southbank Centre in London, as part of their winter light exhibition during Covid. I've always been really into the wrathful deities of Tibetan Buddhism, as although scary in appearance, they are meant to be invoked to help overcome obstacles and difficult moments. — Shezad Dawood.
Two more collectors are primed to claim Specials: @1of1_works and @reelaesthete. Another set of collectors are also getting close: Merme Leaderboard.
What's next for the Mermes?
MermeDrop
At the much anticipated Merme AGM, agenda point "MermeDrop" passed unanimously. It's obvious now that these hybrid hive-mind sea creatures have a tendency to want to proliferate into as many wallets as possible.
All wallets that sacrificed an NFT to merme.eth will be airdropped 1 Sea of Redemption Expanded NFT. Current holders will be airdropped 2 Expanded NFTs. For those who sacrificed and currently hold, the maximum of 3 Expanded NFTs will be MermeDropped.
📆 MermeDrop Date: Tuesday 4th April.
Plankton & Shrimp Burn
With Plankton and Shrimp the most abundant species in the Sea of Redemption ocean, the Mermes have always had a somewhat mysterious plan for them. Now we're finally seeing their intentions with whatever the underwater version of cannon fodder coming into play. The Mermes are happy for these more multifarious and lowly (but in fact incredibly important) Species to be used as a sort of aquatic-currency for upgrading towards the apex of the Species hierarchy. With some collectors taking a mainly Plankton/Shrimp haul, this new mechanism should be useful…
Send 2 Plankton and/or Shrimp to merme.eth and receive a Crab in return; 3 for Octopus; 4 for Fish; 5 = Dolphin; 7 = Shark; 10 for Orca; 15 for Whale.

Sea of Redemption's onward journey
A buzzing community of new collectors has been built around Shezad's work, with the Zien Telegram chat the locus of this and where Shezad has been able to present new access to his work and himself. Shezad is focused on extending the contexts of Sea of Redemption through both his practice and institutional museum shows (more on this to follow). For merme.eth, the next stage is an online exhibition in collaboration with JPG. This presentation of sacrificed NFTs will do the heady work of uncovering the underbelly of the space, while functioning as an exhibition unknowingly curated by Sea of Redemption players using JPEGs that they preferred not to possess any longer.
Join us on Tuesday 4th April, 7pm BST for an AMA with Shezad focused on Specials in the Zien Telegram.
Sea of Redemption continues to evolve through the collecting of Specials and the redemption of physical artworks. The project has made it possible to play your way up to commissioning museum-quality physical artwork from Shezad Dawood, opening totally new access to this renowned artist's work. Meanwhile, the Mermes, after searching for so long, finally find the cultural currency they were looking for.