Zien is on a mission to build a Web3 platform for producing and collecting art by today's foremost media-agnostic artists. After the Sentimentite drop with Agnieszka Kurant, we've been working hard to evolve Zien. Below introduces what's new, but first a summary of recent learnings.
The role of artists in the roughly 200 hundred year history of art and markets is predominantly one of wholesaler. Patrons, dealers, galleries and other intermediaries have extracted or added value upstream of art production. Increasingly the modern incarnation of the system enveloping contemporary art—where artist and audience interface at a distance—fails both respectively. The irrepressible flow of information and knowledge on the internet has predictably found a better way: An internet-native medium capable of disseminating collectible visual culture faster and more widely than before, embedded with powerful social and market mechanisms. Third parties now subordinate to art(ists), not the reverse.
Is there a role for cultural producers in Web3? Since the inaugural drop on Zien with Ed Fornieles we've experimented across diverse areas, including funding new work and going deep with artists to support on curation, production and distribution. Our latest drop with Agnieszka Kurant is a notable case study — over more than six months we collaborated intensely to develop, produce and disseminate Sentimentite, 100 1/1 digital-first artworks that state-change to physical sculptures when redeemed (what we call Expanded NFTs). A work that has attracted interest from a spectrum of crypto and traditional art collectors and institutions, and generated in excess of $100k in ETH (mint fees) and USDC (redeem fees) to date.
What we've learnt, informed by numerous conversations with artists, is that the roles performed by Cultural Producers are valued but legacy infrastructure hasn't scaled with demand and many artists—regardless of age and career trajectory—are exploring new alternatives. As more art moves onchain we believe open protocols will replace these legacy infrastructures, enabling artists to capture more value and retain more autonomy. Our goal is to help accelerate this transition and we'll be laying out how over the coming weeks. Join Zien on Telegram to follow the conversation (follow signposts to Zien chat group).
What's new, the tldr:
We've migrated the Zien bot to Telegram.

The new zien.io website is live.

Six new drops incoming.

An update on Sentimentite.
Migration to Telegram
At the heart of the migration to Telegram is an enhanced chatbot experience—the gateway to Zien. Through an evolving conversational UX, the Zien bot facilitates access to public and private Telegram groups, (U/I)RL events, community content and Expanded NFT mint and redeem features. The product release also includes the first public Zien chat group, a precursor to forthcoming token-gated groups for every drop, built in tandem with a combined ERC-721/20 token design aimed at rethinking how artwork projects are conceptualised, developed and collected (more on this coming very soon).
New website
We've been working hard with the super talented Basile Fournier (and head of design at Zien) to evolve the website. View at zien.io, including:
Improved mobile browsing

A site wide digital/physical toggle

Updated layouts

Rainbow wallet integration

Updated design and type treatment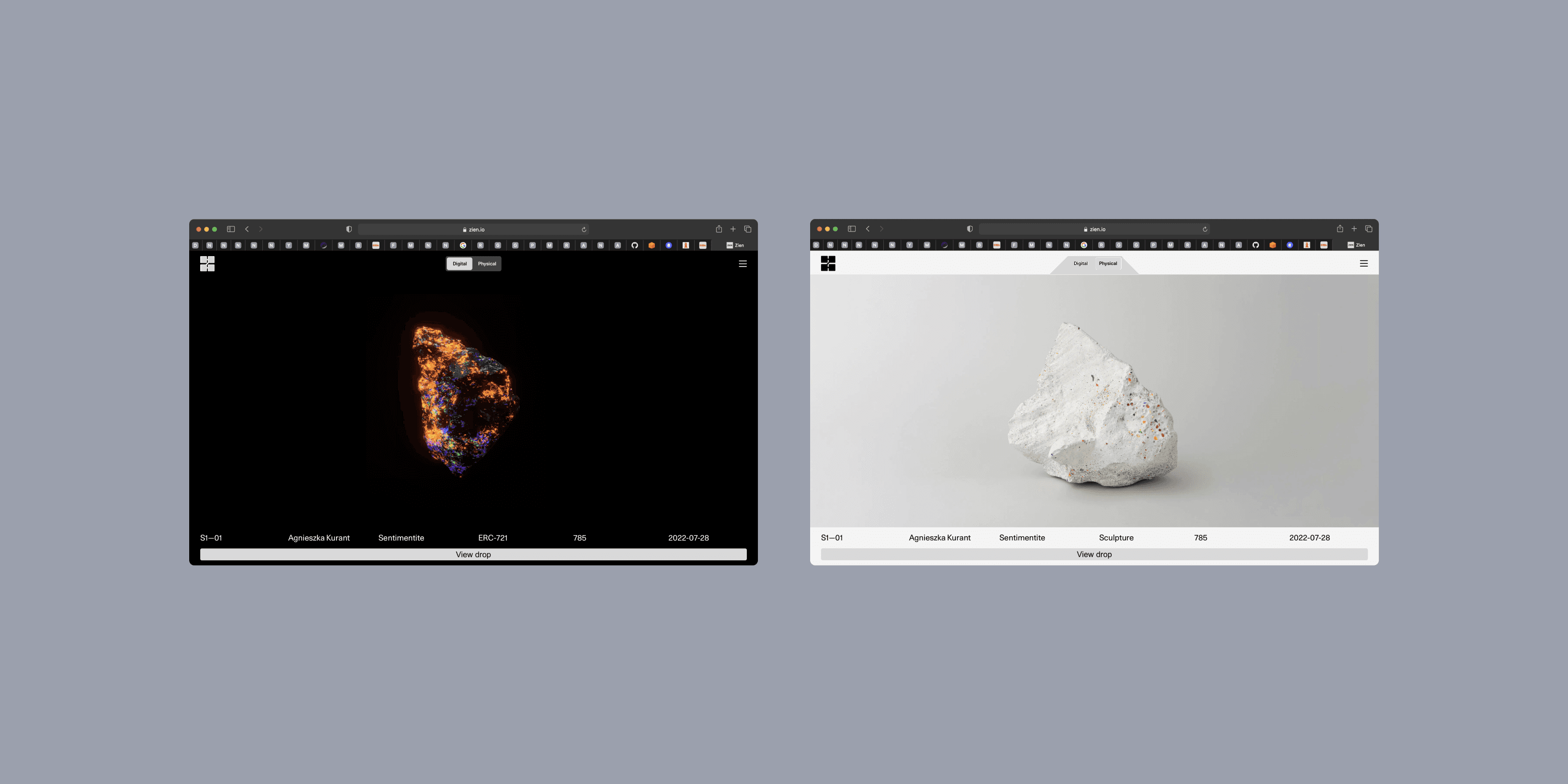 New drops incoming
After the successful launch of Agnieszka Kurant's Sentimentite, we've been working hard on several more drops. We're developing original models for novel types of projects, while bringing fresh artists to the space. Here's what we're currently working on: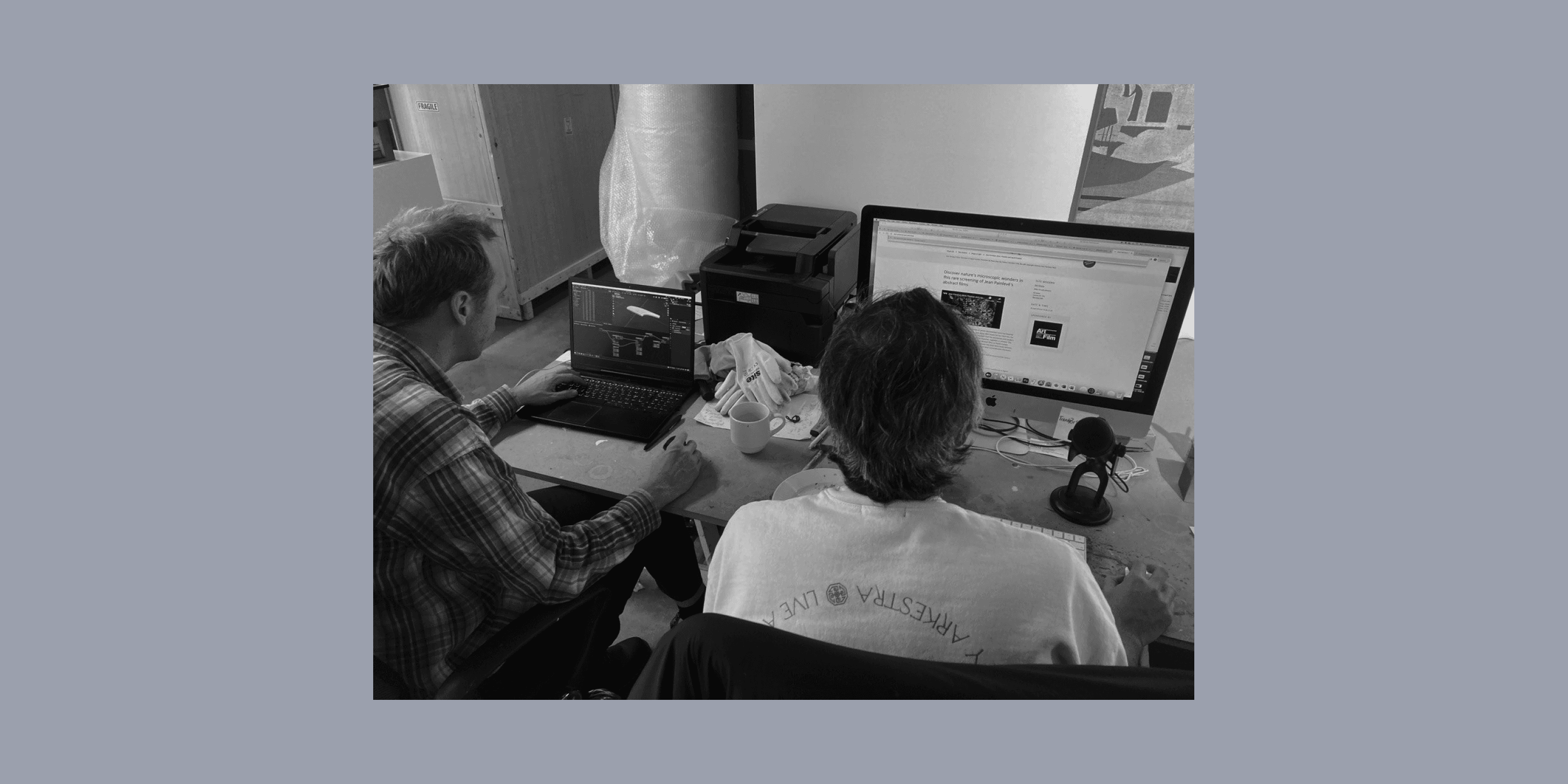 Sentimentite update
Agnieszka Kurant's Sentimentite has become a crucial project not just for Zien and Agnieszka but, based on the wide-reaching positive feedback we've received, for many others too. Since minting of the "100 events, ruptures, revolutions, disasters and future dreams" opened in July, 40 Sentimentite have been collected, including: Birth of Crypto: Mt Gox Hack; Birth of Web3: Christie's auction Beeple's 'Everydays: The First 5,000 Days'; Political Earthquakes: Brexit; The Pandemic: WHO declare COVID-19 pandemic; Tech Futurism: Elon Musk offers to buy Twitter.
Not only has it been a pleasure to introduce Agnieszka's work to a wider audience, but we have also been extremely motivated by the quality and variety of collector that have added Sentimentite to their collections, including: Kadist, 1of1.works, NFT Museum of Art, RefractionDAO, shrugs.eth and Akira.
Last month the first Sentimentite physical redemptions were instigated, kickstarting the fabrication process at Kunstgiesserei St. Gallen AG in Switzerland, which is now currently underway. Mt Gox Hack was redeemed at 50cm, with Ethereum ICO and Christie's auction Beeple's 'Everydays: The First 5,000 Days' both redeemed at 25cm. The fabrication of the sculptures will be completed in January, 2023 and to mark the occasion Zien will be hosting a group of collectors, curators and museum directors at a redemption event at the Kunstgiesserei foundry.
Since its launch Sentimentite has been featured in several international exhibitions. At MUNCH in Oslo, the digital and physical were exhibited together for the first time. RefractionDAO took Sentimentite to their Art Basel Miami satellite exhibition. In Zug, NFT Museum of Art included Sentimentite in a group show of works from their collection. A number of talks and panels also focused on Sentimentite, which saw Agnieszka in conversation with Hans Ulrich Obrist, Anika Meier, Carolyn Christov-Bakargiev, Mat Dryhurst, and Sentimentite collaborator Justin Lane from CulturePulse.
The afterlife of Sentimentite has been hugely encouraging and validates our sense that the project will stand up as a deeply impactful and meaningful artwork within the history of art NFTs and beyond. Finally, early next year we will be sharing a significant piece of Sentimentite news, look out for that!